The Story Behind
Pancreatic Cancer Journey
 Hi! Welcome to Our Story.
My name is Jane. I'm just the story-teller. Mom is the main character. This is really her story.

My mom was diagnosed with pancreatic cancer on November 16, 2010.
In an instant our world was changed.
I remember going out to my car after leaving my parents that day, starting the car, and then realizing that I couldn't see to drive because the tears I had been choking back for her sake had finally overwhelmed my resolve. I could no more stop them than I could stop a flood. My heart ached for the road ahead, my foundation was shifting, and I think the journey of grief began in that moment.
Our family is close. My parents have celebrated 51 wedding anniversaries, and have spent their lifetime pouring love into our family. I have two brothers and we all live within several hours drive of each other. Family get-togethers are loud and fun. With 8 grandchildren and 3 great-grandchildren in tow, there is never a dull moment.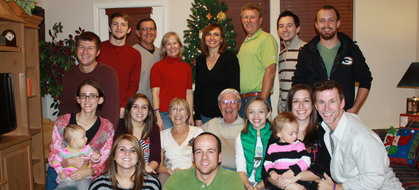 We have our traditions. Christmas is always at mom and dad's. Easter at our house here on our farm. Thanksgiving at Dean's. We throw Birthday Bashes in the spring and summer and just lump everyone into one or the other. Family cruises are our favorite vacation. We've taken 4 to date!  All Together. We love to laugh and always have room at the table for one more, be it friend or neighbor.
And Mom is at the center of it all.
She was 70 years old when she was diagnosed. Healthy, trim and rarely sick a day in her life. The pancreatic cancer diagnosis left us stunned, horrified, panicked and almost physically sick.
When I finally made it home that day, I poured myself into internet research on pancreatic cancer. Hour after hour, day after day, I surfed through articles, web-sites and blogs trying to understand this cancer. I was looking for any shred of hope, a miracle treatment, a new test. A way out of the nightmare.
What I found was a huge lack of personal, heartfelt information on the disease. The vast majority of my searches brought back professional, medical websites and abstract articles. These sites had loads of relevant info - if you were a doctor!
I don't speak medical-ease and I really just wanted to know what lay ahead for us. I didn't need to know that an ERCP stands for endoscopic retrograde cholangiopancreatography, nor did I need to make a decision on plastic vs. metal stents.
What I needed was a roadmap for the days ahead. I needed to know that someone else had made it. And then I needed to know how they did it. Explained in my language, easy and real.
Our Personal Experience is the backbone for the Pancreatic Cancer Journey website. As my mom and our family have plodded along through the minefield of this cancer, we have gained the valuable insight that we had so desparately needed at the beginning of our journey.
Although cancer affects every person differently, one common thread ties us together. It is a challenging, life-altering experience that can leave you physically and emotionally exhausted.
Having gone through pancreatic cancer with my mom, I know what it feels like to be lost without a map, facing an uncertain future with no clear plan of action.
We've learned a lot along the way. You can follow our journey here at Mom's Cancer Timeline.
I would like to give other pancreatic cancer patients and their families some of the knowledge and information that we lacked, to perhaps help ease the trauma of a cancer diagnosis.
PancreaticCancerJourney.com is dedicated to helping you find the answers, products and service you need to navigate the cancer process. Our information is tailored to the unique needs of the pancreatic cancer family, to help guide you from merely surviving, to leading fulfilling, quality lives.
I wish you all the best as you journey thru this new chapter in your life. We're walking the same road with you. Our destination - wholeness and healing.
Let's find it together.
Jane

Return to Home Page from About Pancreatic Cancer Journey

Copyright © PancreaticCancerJourney.com
Nothing on this website should be construed
to constitute medical advice.